Emergency Ready Plan Helps Camden Business When There Was Water Damage Over Night
2/1/2021 (Permalink)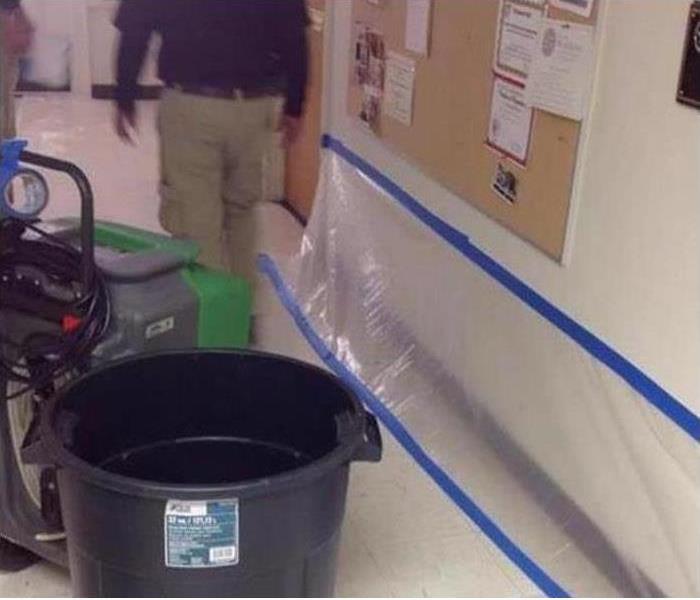 It is important to have your hot water heater on your maintenance schedule to help avoid water damage.
My smile quickly vanished as I stepped into a flooded foyer looking more like a wading pool from all the water. My mind is racing as I frantically search for the source of the water that has so graciously made itself into far more than a wading pool. From the front door clear to the back door the water ripples with each step I take. The normally quiet morning is filled with an unusual sound of water, and to my already pumping with adrenaline being, I find the water source upon opening the door to the hot water heater. Like a dam just turned loose, the water rushed out of the closet. For a fleeting moment I had the thought of a dam affected by a flood as the water spewed out over and around my feet and legs giving the illusion of trees caught in its path.
Shifting gears, I grabbed my iPhone and tapped on the ERP ICON. The ERP ICON represents EARLY READY PROGRAM that is offered and provided by SERVPRO. I was immediately able to click on the EMERGENCY WATER SHUTOFF NUMBER provided by SERVPRO in our companies EMERGENCY READY PROFILE. Water shutoff issue handled, I next located the plumber's number, also provided by SERVPRO in our EMERGENCY READY PROFILE. Next, I contacted SERVPRO who immediately helped to sooth my panic, and stress, as they are dispatching out a SERVPRO CERTIFIED WATER MITIGATION CREW as we spoke.
Over the next few days SERVPRO was a much-appreciated presence in our office as they moved our CONTENTS, performed WATER MITIGATION, and DAILY MONITORING in the affected areas. SERVPRO was patient and explained the entire process each step of the way. Once the DRYING was completed, I watched in astonishment as each article of our contents was meticulously replaced to their original locations.
Reflecting back on there were many factors that contributed to how that day started, and how it ended. I find great satisfaction in knowing that the main positive influential factor was and will remain SERVPRO.
At SERVPRO we want you back to "Like it never even happened."